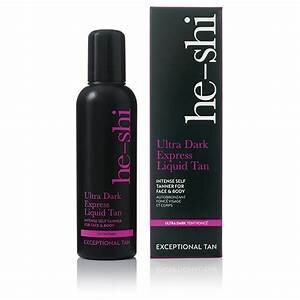 He-Shi Ultra Dark Express Liquid Tan is the darkest tan in the range, perfect for an on trend intense, ultra dark tan. The self-tanner is ultra-lightweight, easy to apply and fast absorbing, giving you a flawless streak free intense tan that lasts up to 7-10 days. It's 'see where it goes' formula means you can be confident of no tell-tale streaks or patches.
He-Shi products are vegan and cruelty free. Formulated without alcohol, parabens, palm oil, mineral oil and sulphates. Products include the highest grade of natural ingredients possible to give a natural looking flawless tan.                                                                                                                                          
SKIN LOVING INGREDIENTS
Use on face and body

Isopentydiol* provides instant hydration to help prolong tanning results, so you can keep glowing for up to 7-10 days. *Clinically proven to increase moisture by 110% within 5 minutes

Pentavitin* instantly hydrates, while providing long lasting tanned and nourished skin                      

* Clinically proven to increase the hydration of skin by up to 40%

Enriched with Vitamin E, Avocado, Argan and Jojoba Seed Oil for ultimate skin hydration, ensuring even fade and non-streaking

Odour neutralising signature scent - White Nectarine & Pear for that no self-tan smell
DIRECTIONS
Exfoliate skin 24 hours before use                                                                                               –

Apply to clean, dry, unmoisturised skin    

Using a he-shi Tanning Mitt, cup the mitt and apply a little liquid to the foam side of the mitt

Glide the mitt over the skin blending the liquid in circular movements

Shower off after 6-8 hours  

Moisturise daily to prolong and revitalise your tan

Mix with your face moisturiser and apply with a brush if you prefer your face to be lightly sun-kissed
Features & Benefits
SUPERIOR TANNING RESULTS
Suitable for all skin tones and types. Light, medium, dark, or ultra dark. The choice of shade will always look natural.                                                                                                                      
100% NATURAL TANNING ACTIVES
ULTIMATE HYDRATION                                                                                                                              
Unique Moisture Lock Technology hydrates and locks in moisture for nourished skin, long lasting results and a natural fade.                                                                              
PROTECTS AGAINST PREMATURE SKIN AGEING                                                                                                                                                                                            Through the use of effective moisturising ingredients, to help rejuvenate your skin's appearance.
INSTANT NATURAL BRONZE GLOW
Quick and easy-to-use products which deliver an instant natural tan lasting 7 to 10 days
ULTRA-QUICK DRYING
Quick and easy to use - dries instantly for comfort, & won't stain or transfer
NON TOXIC - PARABEN, ALCOHOL & SUPLHATE FREE
Kind and gentle and pH balanced, without irritation or drying of the skin
ODOUR NEUTRALISING SIGNATURE SCENT
No fake tan smell.
VEGAN & CRUELTY FREE
PALM OIL & MINERAL OIL FREE
SAFE IN PREGNANCY
RECYCLE ME
All packaging made from recyclable materials