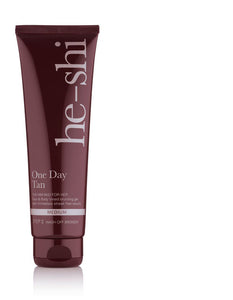 HE-SHI ONE DAY TAN is a perfectly tinted wash-off bronzer that enhances your natural skin tones to give a flawless natural golden glow, whilst moisturising your skin throughout the day. 
The He-Shi One Day Tan is a refreshing, non-sticky and quick drying gel which contains a gentle uplifting fragrance. 
This bronzer does not contain any active tanning ingredients and can be washed off at the end of the day. 
Perfect for those one day occasions or as part of a regular beauty regime. 
Suitable for all skin types, can be used on the face and body and is a paraben and alcohol free formulation. 
He-Shi Youth Revive Opti Tan formulas include moisture lock technology for long lasting results, whilst rejuvenating your skin's appearance to help fight the signs of ageing.