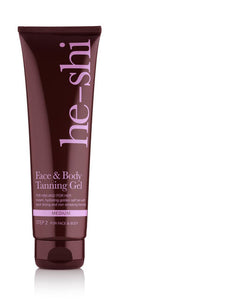 HE-SHI FACE & BODY TANNING GEL is ideal for dry skin and achieving an instant golden tan. This highly moisturising self tanning gel, tans on contact and will last up to 7 - 10 days. 
He-Shi Face and Body Tanning Gel glides onto the skin and is quickly absorbed due to its incredibly light, smooth and moisturising texture. 
With its 'see where it goes' formula you can be confident of not developing streaks or patches. If desired the gel can be reapplied for a deeper instant colour. 
Suitable for use all over the body including the facial area. 
Made from 100% natural DHA and is an odourless, paraben and alcohol free formulation. 
He-Shi Youth Revive Opti Tan formulas include moisture lock technology for long lasting results, whilst rejuvenating your skin's appearance to help fight the signs of ageing.
He-Shi Face + Body Gel delivers a deeper tan than He-Shi Express Liquid even though they contain the same 6% of DHA plus it is highly moisturising, so application can be added lightly.